Visit Cozumel Island Soon [7 Enchanting Reasons Why]
Thinking about taking a cruise through the warm & turquoise Caribbean Sea?
Here's a tip:
Make SURE to visit the alluring island of Cozumel.
Need reasons why?
Great. You're right where you need to be then.
Here are 7 Enchanting Reasons You HAVE to Visit Cozumel Island.
We're going to break down why you need to go to Cozumel in the following sections:
Two Ways to Arrive in Style
The Epicenter of the Riviera Maya
One-of-a-Kind Water Activities
World-Famous Parks & Nature Reserves
Relive Ancient Mexican History with these Museums and Ruins
Cultural Tours
---
1.    Cozumel is Easy & Fun to Get to!
There are 2 ways.
A) You take an awesome all-inclusive cruise thru the Caribbean that stops at Cozumel.
Check here for Cozumel cruise options.
Or
B) You fly to Cancun, and then drive to Playa del Carmen (about an hour South), and then take a 45 min ferry from downtown.
Click here to see ferry prices and schedule.
Actually, there technically is a 3rd way.
Cozumel does have a small airport.
Check this official Cozumel Airport website to see which airlines fly here and from where.
2.    Cozumel is close to everywhere in the Riviera Maya
From Cozumel you can easily reach anywhere in the Riviera Maya:
Cancun – Take a ferry to Playa del Carmen (45 min) then 1-hour drive north to Cancun (or 30 minutes north to Puerto Morelos)
Playa del Carmen – Take a ferry from Cozumel (45 min)
Tulum – Arrive at Playa del Carmen, then drive one hour south
Isla Mujeres –Take a ferry from Cozumel to Isla Mujeres (Check here for details)
3.    Water Activities in Cozumel
If you're coming to Cozumel, make sure to bring a bathing suit!
Why?
Because in Cozumel you can go:
The snorkeling in Cozumel is considered world-class.
The water is clear, and the marine life is abundant. Also, doesn't hurt that the waters are nice and warm as well.
Snorkeling in Cozumel you can see anything from:
Over 500 species of tropical fish
Lobsters
Crabs
Octopus
Squids
Barracuda
Sea Turtles
Sting Rays
If you want to learn more about snorkeling in Cozumel, consider this guide.
Everything from snorkeling applies to its Cozumel's scuba diving as well.
However, you also get:
A fantastic wall site that starts at 50 feet and goes down to 90 feet
Drift-diving just let the gentle current do the hard work for you!
Crystal clear vision several yards down, thanks to the Yucatan Channel
Some of the most spectacular coral reefs in the whole world
Amazing dive sites like Chankanaab Reef, Barracuda Reef, Panacar Reef, Columbia Deep, C-53
Enjoy crystal clear vision while sitting in and paddling in a glass-bottom kayak.
Find out why Cozumel is considered a world-class destination for deep-sea fishing.
Depending on the season here you can catch:
Mahi-Mahi
Blackfin Tuna
Marlin/Sailfish
Groupers
Wahoo
Barracuda
Amberjack
Kingfish
Snapper
This is one of the top activities on the island.
Enjoy a 5-hour adventure that features:
Snorkeling through Cardona and Palancar reefs
Beach Club with volleyball, kayak, paddle boards & water park
All-you-can-drink beer, cocktails, water, & soda
Angus burger lunch
Sailing through the Mexican Caribbean on a catamaran
If you want to visit a great beach in Cozumel, do yourself a favor and head to Playa Palancar.
It's the perfect spot taking in some sun, having a beer, and taking in the view.
Dolphins are special, one-of-a-kind sea mammals. And by coming to Dolphinaris Cozumel, you can have a once-in-a-lifetime experience with them.
Dolphin Interactive Program
This program is recommended because it has a low price & is quick. But if you prefer a more in-depth experience please check out the Dolphin Trainer for a day swim.
Prices will vary from day to day, so please verify online, but one example showed prices ranging from $55 to $90 USD. Play with the dates and times to see different price.
8. Atlantis Submarine
Prepare yourself because Cozumel is home to Mexico's ONLY submersible.
As if you didn't already have enough reasons to go yet, here is another one to add to your list.
This one is particularly great if you have children?
Why?
Because you can see the depths of the ocean without getting wet?
All aboard the Atlantis Submarine!
Hop onboard this family-friendly vessel and discover the celebrated Chankanab Reef. Cozumel is renowned worldwide for its fantastic diving opportunities. However, if you aren't too confident when it comes to swimming or being submerged with diving equipment.
You can witness all of the wondrous sea creatures that inhabit the reef from the comfortable submarine.
It's playground for thousands of fish, lobsters, rays, sharks, and turtles.
This famous reef is made up largely of a huge wall measuring an 1800 feet drop! Yikes!
It's located on the far edges of the island.
Here you can marvel at a dive wreck called Felipe Xicotencatl, a 154-foot ship that sank in 2000 for the purpose of enhancing marine life in Cozumel coral reefs.
The Submarine is navigated by skilled pilots and in the case of power loss, the submarine immediately floats to the surface.
4.    Visit Parks & Nature Reserves in Cozumel
These are the MUST-visit parks & reserves at Cozumel.
A.    Punta Sur/Faro Celerain Eco Park
This 2,700-acre natural reserve has everything.
Here's what you can do:
Rent a Jeep
Get a spectacular view from a Light House
See wild crocodiles (yes, you read that correctly)
Explore some Mayan Ruins
Learn some fun-facts at a museum
Enjoy the spectacular views of nature
Read user-reviews for this park here.
B.     Chankanaab Adventure Beach Park
Located on the western side of Cozumel, is Chankanaab Park. It means "little sea" in Mayan.
There are a host of fun water activities for people to try like:
Snuba
Sea-Trekk
Parasailing
Kite-surfing
Chankanaab Beach is one filled with entertainment anywhere you turn.
Learn more about this park here.
C.     Playa Mia Grand Beach Park
This is a super fun water park with so many different things to do like:
Included with purchase:
Waterslides
Kid's Aqua Playground
Floating Obstacle Course
Hydro Massage
Underwater Mayan Ruins Replica
Kayaks
Sailboats
Paddleboats/Water Bicycles
Inner tubes
Ping-pong/Volleyball/Beach Soccer
Pool Bars
Add-ons
Parasailing $65
Snorkeling$ 30
Wave Runners $110
If you want to spend the whole day at a park in the water, Playa Mia's as good a choice as any.
5.    Ancient Mayan Archeological Site of San Gervasio
Several hundred years ago, the ancient Mayan cultures would take an annual pilgrimage to the island of Cozumel to honor the goddess of fertility, Ixchel.
The Mayan Ruins in Cozumel are called San Gervasio, but the Mayans called them "Tantun Cuzamil", which mean "Flat Rock in the Place of the Swallows".
The earliest construction started in 600 AD, the latest in 1650 AD.
The different structures you can find there are:
Las Manitas
Chi Chan Nah
Ka'na Nah
District 1 Central Plaza
Nohoch Nah
Los Murcielagos
Visit El Cedral
You cannot come to Mexico without learning about the enchanting ancients Mayans who were here before you.
They contributed to our vision of the stars, planets, architectures, and even chewing gum. We have a lot to thank them for!
So while you're here in Cozumel see it as an opportunity to learn more and become fascinated.
El Cedral is the site of the oldest ruins on the island. This small house with no ornamentation is a fertility temple and thought to be a very important ceremonial site for women thousands of years ago.
For locals, this is one of the islands most significant places of worship, and you will find a small church located next to the tiny ruin.
The village of El Cedral is just 3km west of Carretera Costera Sur.
The turnoff is near Km 17, across from the Alberto's Restaurant sign.
Just look out for the white-and-red arch.
6. Cultural Tours
1. Flavors and Traditions of Mexico.
Cozumel is renowned for its amazing chocolate, tequila, and delicious tasting food.
This is a tour for the foodies reading this, and guaranteed to be the highlight of your trip.
The flavors and traditions of Mexico is actually a tour ran by the water park of Playa Mia so you book this with them.
It provides you with the opportunity to learn more about the flavors and traditions of the island that have stood the test of time.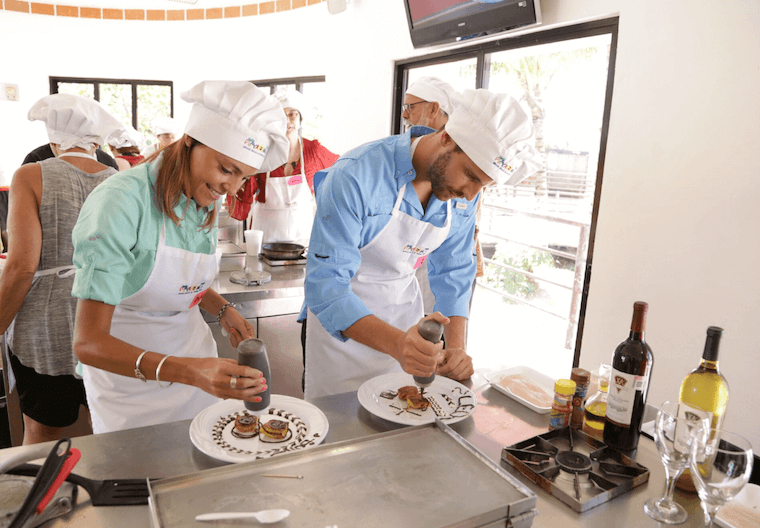 On this tour, you have the opportunity to put an apron on, roll up your sleeves and get involved.
Meaning, that you can go back home even long after your vacation has ended and reproduce the same quality food.
Accompanied by your tour guide you will sample unique blends of tequila, learn about the significance of the Cacao seed and take part in a cooking workshop.
What's not to love.
It's the perfect tour for couples or honeymooners searching for something a little different.
The workshop includes:
A dynamic cooking station
Your own personal chef (who will guide you through the entire process)
+ An open bar (hell yeah)!
Once you've cooked up something delicious eat it together as a group before enjoying everything else Playa Mia has to offer including slides and island time.
Visit Cozumel Island posted by Dolphinaris Blog