Swim with Dolphins in the World's Best Dolphinariums.
Dolphinaris offers you the opportunity to make your dream of swimming with dolphins come true in five mind-blowing locations that exceed the expectations of the most experienced tourists. Situated in Dolphinaris Cancun next to Wet'n Wild, Tulum within the Bahia Principe Hotel, Riviera Maya Park only 15 minutes away from Playa del Carmen, Cozumel and in the Hotel Barceló.
Come with us, get the experience of a lifetime swim with dolphins in Mexico, choose your Dolphin Swim Program Dolphinaris offers the best dolphin swim encounters in the world's best dolphinariums.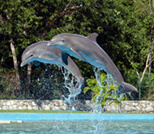 Deric2015b
Vanessatui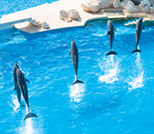 Angela A
"Dolphin-astic!"
First time for me, swimming with dolphins, and 2nd time for my wife. In her words, this was the BEST! And I agree :) Everyone should get a chance to swim with a dolphin! Access to the huge water slides/park was great too!
Non-stop fun at Playa del Carmen
Playa del Carmen is one of the hottest spots along the Riviera Maya. It may not be the bustling tourist attraction that is Cancun, or have its fame for that matter, but it's kind of impossible to compare the two...
Are you looking for the best places where to swim with dolphins? Here, you can find different options that adapt to your personal needs. You can visit Dolphinaris Cancun, a location next to Wet'n Wild Cancun water park. This is a perfect...
Cozumel is an amazing little island to visit, if you plan on vacationing anywhere along the Riviera Maya. It's right across the water from Playa del Carmen, and offers up small town flavor for those who want to escape the...