Swim with Dolphins in the World's Best Dolphinariums.
Dolphinaris offers you the opportunity to make your dream of swimming with dolphins come true in five mind-blowing locations that exceed the expectations of the most experienced tourists. Situated in Dolphinaris Cancun next to Wet'n Wild, Tulum within the Bahia Principe Hotel, Riviera Maya Park only 15 minutes away from Playa del Carmen, Cozumel and in the Hotel Barceló.
Come with us, get the experience of a lifetime swim with dolphins in Mexico, choose your Dolphin Swim Program Dolphinaris offers the best dolphin swim encounters in the world's best dolphinariums.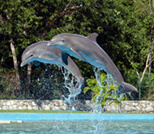 Deric2015b
Vanessatui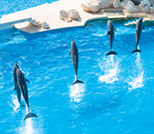 Angela A
"Dolphin-astic!"
First time for me, swimming with dolphins, and 2nd time for my wife. In her words, this was the BEST! And I agree :) Everyone should get a chance to swim with a dolphin! Access to the huge water slides/park was great too!
What you should know before traveling with kids to Mexico
There's nothing more memorable and fun than a family vacation to an exotic destination. The Mexican Caribbean, though it is a great party area, is also perfect for visiting as a family. There are so many activities to choose from,...
Needless to say anything when the images say it all for themselves. In the pictures below, you will realize why you should enjoy the summer in the Mexican Caribbean. Tulum The scene is fantastic, with archaeological ruins by the sea and sandy...
The name Akumal means "Land of the Turtles". It's a hatching ground for some of the most beautiful sea turtles you will see in your whole life. The number of sea turtles you see will vary depending on what time...